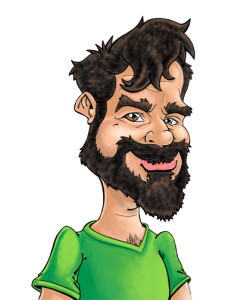 Tim Kannard transitioned from Kannard Illustration to Laughing Dawg Studio in 2007 when he expanded focus from strictly illustration and design to include live drawing with an audience. When a friend from art school convinced him to try caricature drawing at a festival in Plymouth WI, he caught the bug for it! It was the perfect blend of socialization, comedy, and artistic challenge. At that time Tim was also involved in the sport dog world, breeding and showing cardigan welsh corgis. He found that caricature drawing was successful at both Renaissance Faires and dog events and wanted a business name that could encompass both endeavors, as well as his studio work. That was the birth of Laughing Dawg Studio.
Since that time Laughing Dawg Studio has grown steadily, both in it's client base and the number of events and organizations it provides services for. Tim continues to love the challenges that design and illustration give him in the studio and the rush that comes from drawing and interacting with a live audience when he does caricatures. He's been a member of the International Society of Caricature Artists, which has done a lot to open his mind to the breadth of possibility caricature has. This led him to experiment with animal caricatures. Though he fondly uses the made up word dogicatures, Tim can do caricatures of any animal and works with various pet rescue organizations and charities as his schedule permits. He can be found vending at various Renaissance Faires around the Midwest late Spring to early Fall, see the Schedule tab for details. Tim is always available for private commissions or commercial design and illustration work, and always looking to expand his schedule to include new events to draw caricatures at.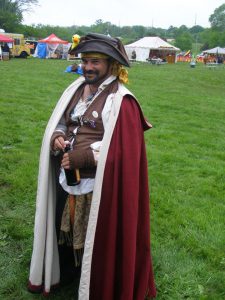 Being around Renaissance Faire communities has blessed Tim with many friends, each with their own interesting skill set. After being called out on having a performers personality by these friends, he has succumbed to it. Tim was recruited into the Midwest Renaissance Actors Guild and performs as "Ducky", a comedic pirate, while drawing caricatures at Faires. Ducky allows Tim to easily and comically engage his patrons, and others around, in the effort to elevate their experience. Tim is most satisfied with his work when it makes others smile.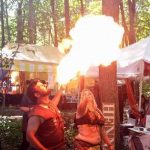 Outside of the studio and away from work Tim is a recent resident of Elkhorn, Wisconsin. He spends a lot of his free time exploring the local food scene and walking around the city. He adores live entertainment, good food, a nice cider, movies, a good coffee shop, and is addicted to facebook. Some of Tim's Renaissance friends are fire performers and, quite literally, sparked his interest in it. He practices primarily with contact staff and is part of fire and flow community.