Laughing Dawg Studio provides a vast array of services within the visual arts. Not only do we provide caricature services for special events, we also provide commercial design and illustration services along with private commissions. See the Projects page for an explanation of the process we use to work with our clients and a sample project.  Please see the section that best applies to you below. Our specialties include:
For Commercial Clients: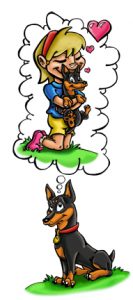 Commercial services are geared for advertising, marketing and identity packages. This involves a transaction of copyright and rarely includes the original artwork created. We do require a contract, either our own or one provided by the client, due to the multitude of technicalities that comes with commercial work and copyright. We work on a flat fee or hourly basis depending on the project.
Custom Studio Caricatures– These are done from photos provided by you and completed either digitally or through traditional mediums. This can be a single subject or a group of subjects.
Event Caricatures – These are done at your location. Please see our Events page for more information.
Character Design – We create custom mascot characters for your business. A highly memorable identity through a custom character can advance your brand.
Illustration – We create cartoon illustrations for everything from books to websites, from covers to spot illustrations to spreads.
Logo Design – We create custom logos for your business or organization.
Design Consultation– We use our expertise to assist our clients in getting the most mileage out of their marketing materials and identity packages.
Please E-mail us to provide a quote or to discuss your project. Click Contact or just click on the envelope on the right hand side of the screen.